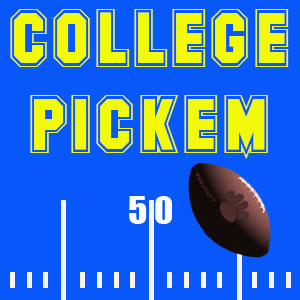 College Bowl Confidence
This League takes place during the College Football Bowl Season. The league creator chooses from the list of NCAA bowl pools and those invited will have to pick the winner, either straight up or against the spread, along with a "confidence" level for each game. If the creator chooses 24 games, the confidence levels are 1 for your least confident game and 24 for your most confident game. Use each confidence level only once. To accomdate the Championship game, enter a bonus amount of points to be awarded to anyone who picks the correct winner from the four playoff teams.
&nbsp
League Cost: Free. (this is why the site has ads)
Season Starts: Week 1 of College Action or whenever you want to start it.
Season Ends: The completion of the week of the College Football Bowl Season.
Game Winners: Ranked by most wins overall or most Weeks won (most wins in any given week).
Choose between all games that the league's commissioner configured for the league to select from.
Leauge Commissioner Tools to boot/lock entries, adjust other league member's games if needed, view all entry's emails and names and more...
League Home Page with space for Commissioner to write articles and wrap-ups if they so choose.
Automatically send invites from the site when you create a league or just email on your own with a simple URL to pass on or use the league's name and league password.
Players can pick and modify games up until kickoff of each game.
Picks cannot be changed once game kicks off and games are viewable for others in the league to see after kickoff.
League Message Board.